Cabin

boat with

ambulance

equipment for

rescue

and

transport

.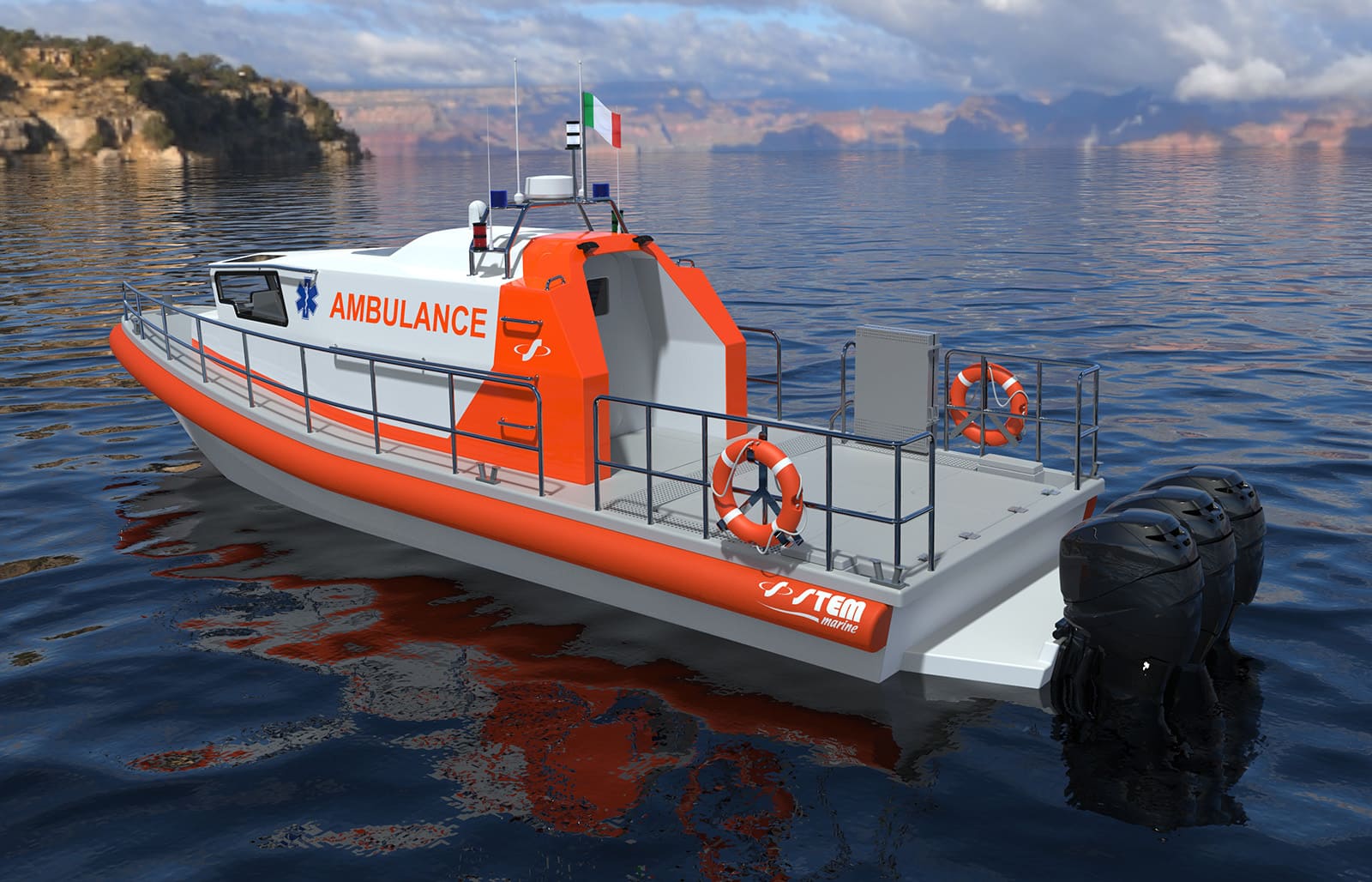 ---
Technical specifications
---
| | |
| --- | --- |
| Design category | B - (A) |
| Hull length | 11.95 m |
| Length overall | 12.65 m* |
| Width overall | 3.62 m |
| Empty displacement | 12000 kg* |
| Payload (people included) | 1500 kg |
| Fuel tank | 2 x 500 l inox |
*Depending on the configuration
---
Main Features
---
Hull and deck in GRP and vinylester resin with Kevlar layers, moulded in vacuum infusion
GRP cabin with medical equipment compartment
D shaped fender made of energy absorbing polyethylene foam encapsulated within a resilient polyurethane elastomer
Medical area for patient treatment separated from cabin with a door
Special equipment for medical rescue and resuscitation including a shock absorbing stretcher-support and medical equipment
Cabinet for medical equipment
IV hook, oxygen system
Air conditioning for medical area and pilot cabin
Folding loading ramp for roll-in stretchers
Self-draining deck from standstill
Shock-absorbing support

for nautical-use

stretchers

with

self-adjusting hydro pneumatic suspension

.
Shock-absorbing support for nautical-use stretchers, with self-adjusting hydro pneumatic suspension based on the patient's weight. Particularly recommended for high-speed boats, it can absorb shocks due to the impact with the waves with values up to 10 g.

MAST15 is the latest STEM achievement concerning the healthcare transport sector, as result of the long experience of STEM marine department in the nautical sector. The system is equipped with a hydraulic power unit, which adjusts the suspension according to the actual load to be damped.

The installation only requires an adequate structural fixing and a 12 V DC electrical connection.

MAST15 support has fixings points for medical equipment, such as defibrillator, lung ventilator, infusion pump, IV pole, etc., so these devices are protected from shocks, too.

MAST15 allows the loading of both road and basket stretchers.

You can lock the suspension in order to make cardiac massage and also during the stretcher loading with the possibility to adjust the stretcher tray height.

MAST15 has a diagonal rotation compared to the longitudinal axis of the boat, which allows you to place the support on both sides of the cabin and to load the stretcher by entering the rear door.
Hydraulic steering
Courtesy light on stern for stretcher loading area
Light (stern) on stretcher loading area
1 bollard (bow)
4 hoisting hooks
6 mooring cleats
2 towing hooks at stern and 1 at bow
Stainless steel handrails on the perimeter
Bow pulpit raised version
Stern platform in stainless steel equipped with a dive ladder also in stainless steel
Navigation lights/mooring light
Siren and loudspeaker with sound selection (emergency, police...) and control unit
Marine diesel generator suitable to the equipment
Electronic battery charger with socket for shore power
4 electric bilge pumps with control panel with acoustic and visual alarm
WC room with fresh water tank
Shock absorbing seats for pilot and co-pilot
Shock absorbing stretcher support MAST15 for patient transfer on stretcher
Foldable loading ramp for roll-in stretchers
Rescue Kit complete with "Basket" type stretcher and stern loading system
Cabinets and basic compartments for ambulance type equipment
Bench for crew's sitting places
Cabin with basic insulating coating
1 rear access door weather proof type
1 sliding door separating the medical area from the pilot cabin
1 service door co-pilot side
Windows in tempered glass with windshield
Pilot console with hatches for access to electrical connections
Magnetic compass
VHF Radio
Radar + GPS chart plotter
Echo sounder
Mooring line with electric windlass
Blue strobe flashing light
Cabin cooling/heating system
In-board marine Turbo Diesel engine– recommended power 2x450 hp (Max 2x600 hp)+ waterjet propulsion, suitable for emergency operations in shallow waters and high maneuverability in narrow spaces
Marine Diesel engine with sterndrive or IPS – recommended power 2x400 hp (Max 2x600 hp) for high performances
Outboard engine 3x300 hp
Pneumatic fender made of Hypalon-Neoprene 1670 dtex divided in 9 sections
Bow fender in polyethylene encapsulated foam within a resilient polyurethane elastomer with pneumatic side fender
Power assisted lifting system for material/stretcher loading from water
Electrically controlled or manual searchlight
Courtesy lights on deck
High definition echo sounder with 3D view
Thermal camera with night vision
Medical equipment on demand (oxygen system, defibrillator, etc)
Cabin cooling/heating system
Cabin with high performance insulating material
Diesel firefighting pump system of 1300 l/min – 10 bar, stainless steel monitor
1 Lifting Kit with 'D' shackles
Pre-heating kit for propulsion engines